Pupils in St. Pat's are given the opportunity to try many different sports including:
Soccer, Hurling, Swimming, Olympic Handball, Rugby, Gaelic Football, Gymnastics, Dance Classes, Basketball, Handball, Rounders, Table Tennis and Athletics.
Experienced staff and qualified coaches train our school teams who participate in all the local school competitions and continue to beat the competition time and time again.
Many successful athletes have hailed from our school including Irish Soccer Goalkeeper, David Forde.
In addition, we have welcomed some very special athletes of our time to our school for example, Olympic Winner, David Rudisha.
Our teams take part in blitzes throughout the year, namely Cumann na mBunscol, Mini 7s and other locally ran blitzes.
The school is very proud of its GAA history, with many county titles to our name.
We have had many past pupils representing Galway at minor, U20 and Senior level. Most recently, past pupil James Egan was a member of the Galway football team who won the 2022 Connacht Championship and reached the All-Ireland football final.
In addition to coaching provided by teachers after school, the pupils are also coached by Galway football goalkeeper Connor Gleeson. Connor comes in on a weekly basis on behalf of local club, Fr. Griffin's/Éire Óg as part of their schools coaching initiative. Weekly coaching takes place in the school yard throughout the year.
St. Pat's pupils have been extremely successful in U11 and U13 competitions in Olympic Handball. Our trophy cabinets have housed County Titles on numerous occasions .
Pupils are trained at lunch time and have regular trials to scout new talent! It is a fun, inclusive and dynamic sport, just one of many we offer in St. Pat's.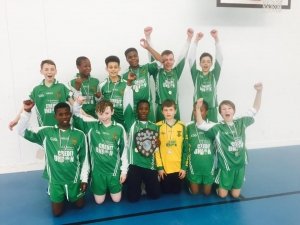 Pupils participate in a block of swimming lessons every year in Leisureland, Salthill. Children are accompanied by teachers, grouped by ability and taught by trained swimming instructors. Pupils are also taught Water Safety during their SPHE lessons in school.
We highly encourage our children to participate in swimming both inside and out of school.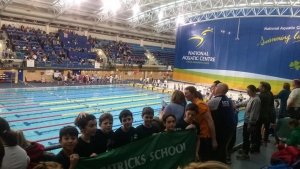 Kick boxing is an intensive all over workout that builds strength, stamina, balance and coordination. We are very lucky in St. Pat's to have plentiful equipment in order for us to offer kick boxing classes!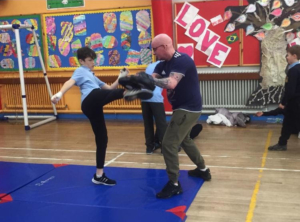 Our thrilling Pat's Cup indoor soccer league takes place every year for 3rd, 4th, 5th and 6th class pupils.
Last year, our Premier League and World Cup tournaments raised over €800 for animal welfare charities in Galway!