During the course of their education in St. Pat's, our children are given the opportunity to try many different sports & physical activities (both team sports and non-contact sports) including:
Soccer, Hurling, Swimming, Olympic Handball, Rugby, Gaelic Football, Gymnastics, Dance Classes, Basketball, Handball, Rounders, Table Tennis and Athletics.
Children are trained by experienced staff and qualified coaches. They participate in rigorous training and continue to beat the competition in many sporting areas. The school is represented by teams in all the local school competitions.
Many successful athletes have hailed from our school including Irish Soccer Goalkeeper, David Forde.
In addition, we have welcomed some very special athletes of our time to our school for example, Olympic Winner, David Rudisha.
St. Pat's has a long and proud tradition of promoting hurling in Galway City, and the school is the proud holder of numerous county titles in hurling.
Enjoyment of the game and developing and improving their skills are the main aims of the coaching undertaken in the school.
Training takes place in the school yard weekly.
Players are drawn from city clubs Castlegar, Liam Mellows, Salthill-Knocknacarra and Rahoon Newcastle who all come together to play in the green and white of St. Pat's!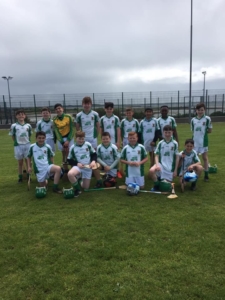 St Patrick's Primary School plays an active part in developing Gaelic Football both in the school and the wider community.
Indeed, the school has had a long and successful tradition in fostering and cultivating a love for the sport.
Our philosophy for Gaelic Football in the school is one of participation, to introduce children to the game and offer them an opportunity to play it.
All our classes have access to coaching sessions throughout the year from our dedicated teachers and external coaches.
Our teams participate in the Cumann na mBunscoil and other school competitions during the year.
Olympic handball is a very popular sport in St. Pat's and the boys have been extremely successful in U11 and U13 competitions. Our trophy cabinets have housed County Titles on many occasions and the U13 team is currently preparing to retain their title next week.
Boys are trained at lunch time and have regular trials to scout new talent! It is a fun, inclusive and dynamic sport, just one of many we offer in St. Pat's.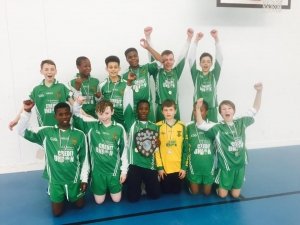 Here in St. Pat's, we consider swimming to be an essential life skill. Within the school children are taught Water Safety during their SPHE lessons.
3rd and 4th class pupils participate in a block of swimming lessons every year in Leisureland, Salthill. Children are accompanied at all times by school staff and are taught by trained swimming instructors.
All children (beginners, intermediate and experienced) are enabled to participate as they are grouped according to ability.
We highly encourage our children to participate in swimming both inside and out of school.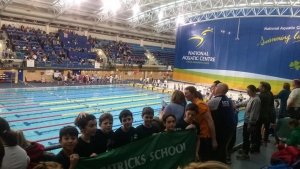 Kick boxing is an intensive all over workout that builds strength, stamina, balance and coordination. We are very lucky in St. Pat's to have plentiful equipment in order for us to offer kick boxing classes!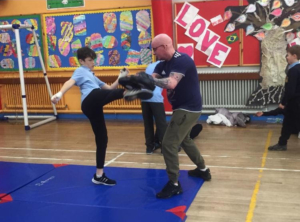 Our thrilling Pat's Cup indoor soccer league takes place every year for 3rd, 4th, 5th and 6th class pupils.
Last year, our Premier League and World Cup tournaments raised over €800 for animal welfare charities in Galway!