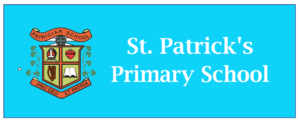 Our mission is to create a safe learning environment in which all children realise their full potential.  We endeavour to cultivate and promote the physical, intellectual, emotional and spiritual development of the child within a secure environment.  Our aim is to promote a holistic educational experience which meets the needs of all children in our care.
We strive to provide a harmonious, secure and caring environment in which the social, moral and cultural needs of our children are identified and nurtured.
 Ours is a school with a Catholic Ethos and we embrace all cultures, creeds and backgrounds.  We promote a spirit of mutual respect in the school.
 We in St. Pats Community we LEAD:
 Love Learning
Excel in all we do
Achieve goals together
Do what is right