The boys and girls in St. Pat's have access to a music room stocked full of brass instruments, violins, drums and percussion instruments.
Children participate in regular music classes where they learn how to read & write music, recognise instruments by ear and learn a range of musical instruments.
We are lucky enough to have a school orchestra, conducted by John Flemming, that perform at school events.
Weekly beginner guitar lessons are taught by Mr Conboy. Every child gets the opportunity to learn how to play their favourite songs in a fun and relaxed environment.
In addition to our acoustic guitars, we have acquired a set of ukuleles which all of our guitarists have the opportunity to learn how to play!
Our guitarists get the opportunity to perform alongside the orchestra at whole school events.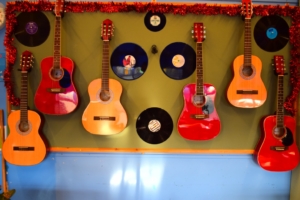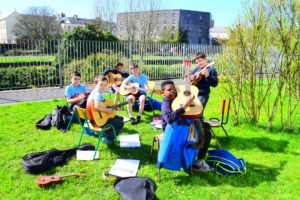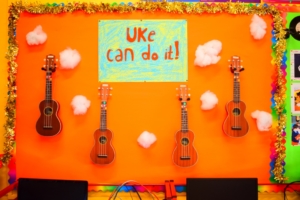 Our resident music teacher John Fleming also teaches brass instruments after school twice a week.
Children are given the opportunity to try a wide range of brass instruments initially. They then choose their instrument which they will practice on for the year.
Most of John's pupils become so proficient in their chosen instrument that they continue on to join Galway's Patrician Brass Band.
St. Pat's Choir are guided by enthusiastic staff members who have experience training choirs and who play guitar and piano.
Every year, 5th classes gather to practice melodies and harmonies across a wide variety of musical genres.
Many hours of training is put in before their performances at school events, concerts and ceremonies for religious sacraments, as well as events outside of school and choir singing on Shop Street!
Every year children across the school practice hard to learn their favourite Christmas tunes and jungles which they then perform for their parents at our annual Christmas concerts.