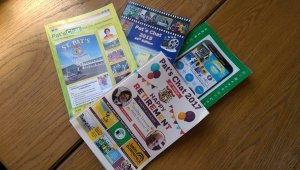 Each year our senior classes, their teachers, SNAs and our school secretary work together to create our famous 'Pat's Chat Magazine'.
Every class in the school creates their 'Class Profile' for the magazine, class photos are taken and each child in the school contributes a piece of work.
Photos are gathered of all events throughout the year (and there are many)! Crosswords, word searches, jokes, games and riddles are created for the reader's enjoyment.
Finally the children in the Senior Classes visit local businesses and seek funding for the printing of our magazine. We have found that our neighbouring businesses are only too happy to help. Many have attended the school in the past and want to give back to their alma mater.
Orders are taken, printing takes place and magazines are distributed in June.
Being able to look back over all the fabulous events, work, activities and achievements accomplished throughout the year is one of the highlights of our school year.