We endeavor to ensure that every day in the life of a child in St Pats is an enjoyable, memorable and exciting one.
From academic subjects and additional support, to sports, free play time on yard, visits from local experts in wildlife, science, art, to local outings around our beautiful city, museums, library, Christmas market, to the Claddagh fields, Salthill beach and even journeys further afield for school tours, to additional activities that teachers like to engage their pupils in such as chess, lego, robotics, coding, gardening, guitar, ukulele, gaelic, athletics, fund raising for charity, choir, drama etc. to name a few…
There isn't a day that goes by that is the same as the last. Life in St Pats sure is exciting!
Language is embedded across all curricular subjects. Therefore great emphasis is placed on early intervention of children's literacy skills here in St Pats.
We use modelled reading, shared reading, station teaching, TSI, Literacy Hour, Buddy Reading, in class support and withdrawal to support and encourage reading in our pupils.
We provide access to a fully stocked and modern school library, visits to the city library and ensure reading material is at each child's ability level.
We support children in the areas of phonics, fluency, word attack, writing and oral language.
Run by our dedicated parents' association, the boys and girls of St. Pat's are provided with individual accounts through which they scan their books in and out. Just like Galway City Library.
Our school library is regularly updated with the newest and most sought after children's books on the market.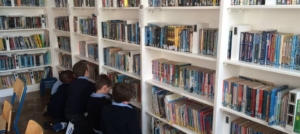 Children in St. Pat's are shown, supported and encouraged to think creatively and critically, to analyse data and problems, to work with their peers to think outside the box, to devise solutions, critique their work, edit and try again.
Our current school focus is on Problem Solving and Times Tables. Children are regularly provided with Word Problems which they must solve using strategies taught in class.
Children also take part in Maths stations, games, interactive whiteboard activities, are provided with in class support and withdrawal and have access to concrete materials at all times.
In a world where the majority of the jobs that our children will have, haven't been created yet, we must prepare our pupils adequately. Primary school is the time to start. St Pats is the school to do this.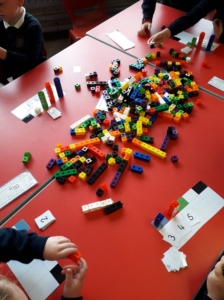 St. Pat's is a Catholic school which promotes the full and harmonious development of all aspects of the child. We are an open and inclusive school and we welcome children from all religions, creeds, cultures and backgrounds.
Children in St. Pat's enjoy learning about the religions of their friends and of the other children in their classes.
Each year the 1st and 6th class children in St. Pat's make their First Confessions, First Holy Communion and Confirmation in the Augustinian Church, Middle Street, Galway.
Both the parish priest Fr. Tony and our school choir assist these classes and spend many weeks preparing to celebrate these important events.